Our Local Real Estate Company
With a Global Reach
Rip Van Winkle Realty was founded in 1985 and has led in Real Estate in Greene County, New York - the Hudson Valley and the Catskill Region. We continue to lead and serve Greene, Columbia, Albany, Rensselaer, Ulster, Schoharie, and Delaware Counties. In 2016, the company was purchased by new owners, and its name was changed to Rip Van Winkle Mountain Realty. Today, our company proudly operates as RVW Select Properties.
We have merged our history into a proud embodiment of who we are as a trusted and innovative local real estate company with a global reach. We utilize innovative technology to represent our sellers and buyers in residential, commercial, investment, and vacant land sales. We offer incomparable marketing, media, technology, sales, and real estate services to our sellers and buyers. Our professional, experienced, and knowledgeable licensed salespersons & associate brokers bring buyers and sellers together serving them with quality, commitment, and professionalism. We are conveniently located at 1169 State Route 23 in Catskill, near the Rip Van Winkle Bridge, only minutes away from the NYS Thruway Exit 21, or the Rip Van Winkle Bridge Approach. Stop in for a warm welcome, call us at (518) 943-5303, or email us. Continue reading to learn more about RVW Select Properties.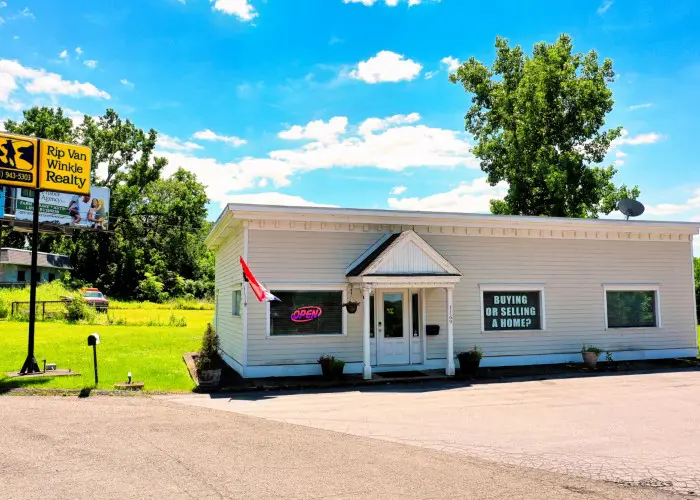 A real estate agent is a REALTOR® when he or she becomes a member of the National Association of REALTORS®, The Voice for Real Estate®, the world's largest professional association. The term "REALTOR®" is a registered collective membership mark that identifies a real estate professional who is a member of the National Association of REALTORS® and abides by its strict Code of Ethics.
Founded in 1908, NAR has grown from its original nucleus of 120 members to 1.4 million today. NAR is composed of REALTORS® who are involved in residential and commercial real estate as brokers, salespeople, property managers, appraisers, counselors, and others who are engaged in all aspects of the real estate industry. Members belong to one or more of 1,400 local associations/boards and 54 state and territory associations of REALTORS® and can join one of our many institutes, societies, and councils.
Additionally, NAR offers members the opportunity to be active in our appraisal and international real estate specialty sections. REALTORS® are pledged to a strict Code of Ethics and Standards of Practice.
Working for America's property owners, the National Association of REALTORS® provides a facility for professional development, research, and exchange of information among its members. Moreover, we are members of the New York State Association of REALTORS® and the Columbia-Greene Board of REALTORS®.